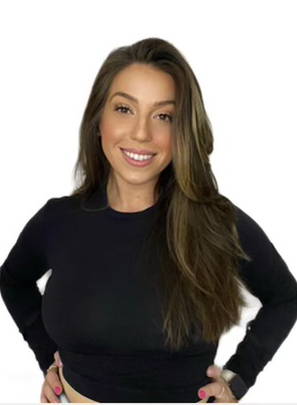 Born & raised in Hicksville (Long Island, NY) around the block from my home girl, coach Selena
I have my Bachelor's degree in Psychology and a Master's degree in Applied Behavior Analysis and now I am a Board-Certified Behavior Analyst. During my day to day, I typically work with individuals with severe disabilities. I help their teachers/therapist to push these individuals to meet their highest potential and manage their maladaptive behaviors. I love working in the field and seeing the progress each one of my students makes along the way. I have learned so many life lessons from all of the individuals I have had the amazing opportunity to work with.
Who's in heavy rotation on your playlist?

Post Malone will forever be my celebrity crush and shuffling through my playlist. Also any song featuring Cheat Codes SLAPS!
Who's your spirit animal?

My spirit animal is my puppy Gucci! She is Bagel's soon to be new BFF. She will be making a guest appearance at the Astoria studio ASAP! Also, Coach Su AKA Su-Dawg!
Fitness has been a very important part of my life since I can remember. I was a college athlete and have always been dedicated to my health and fitness. Form50 specifically has changed my life and my view on the fitness industry. I was in a life-altering car accident that kept me off my feet for about a year. I was SO self-conscious jumping back into fitness post-accident and had difficulty feeling myself again during recovery. Form50 was the first group fitness class I took after recovery and I couldn't be more thankful to walk through those doors! I finally started feeling confident, was able to get back into working out and found a community of strong, hardworking boss babes! I knew I wanted to have the opportunity to give people what this place has given me! Form50 is filled with so many special people and amazing energy, I knew I wanted to be a part of the FormFam!
What's your go-to place in the 'hood to hang out?

In Astoria, you can always find me at Ovelia with coach Selena. Their feta cubes with honey are FIRE! For drinks you can find me at Sweet Afton with a Dirty Pickle Martini *chefs kiss!*